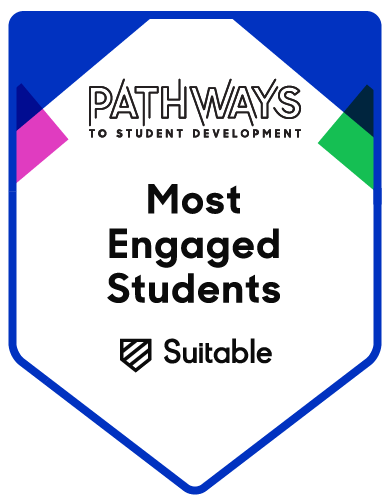 The Flight Academy, powered by Suitable, is an engagement platform accessed through a desktop or mobile application that keeps a log of the outside of classroom (co-curricular) activities. Complete activities to earn points and badges around 9 Core Competencies that employers want today.
BUSA Professionalism Courses/Hughes Leadership & Career Program (BUSA) courses will use the Flight Academy as a tool to track the completion of the required course activities. Reference material will remain in D2L, including the syllabus and instructions. A passing grade in BUSA courses will be achieved by successfully completing all required activities for the corresponding badge in the Flight Academy platform.
The Flight Academy is not just for BUSA course badges. Non-course badges (e.g. the Professionalism badge) are found on the "Achievements" tab once you select "Milestones." You can earn points and compete for incentives and prizes. Additionally, your co-curricular transcript (a record of all your outside the classroom activities completed on The Flight Academy) can be shared with employers!
Choose activities that matter the most for you and make sense with your professional development. There are required activities, but you can personalize your option activities to help you reach your goals.
How do I use the platform?

As of Fall 2020, all Coles College of Business students are active on the Flight Academy platform. You can immediately bookmark app.suitable.co (not .com) to your computer for ease of access. Login information is simply your KSU email address and password through Duo authentication. Having the mobile app is especially effective for scanning QR codes at in-person events on campus. Download the free "Suitable" app from your app store and mobile login will also require Duo authentication. Get familiar with the app by completing the optional Coles 101 badge.

BUSA 2150, BUSA 3150, and BUSA 4150 students will have access to their course badge on the first day of class. These students should be vigilant in seeking understanding of the requirements and deadlines outlined in their syllabus on D2L.

Why an engagement platform?

The qualities, characteristics, and abilities that employers want to see in employees is evolving. Soft (or essential) skills like complex problem solving, critical thinking, creativity, emotional intelligence, and cognitive flexibility are critical/imperative for innovation and collaboration. These skills are necessary to solve today's business problems and are best taught through engagement, experience, and practice.

We are shifting our focus to your overall personal development. The future of work will require you to bring your whole self to your career, which will require continuous learning and development. Participation, reflection, and applying what you learn in-class build the foundation you need to succeed.

What's in it for students?

Ah-ha moments will come when you least expect it as you make connections between knowledge and practice. Practice listening to and learning from diverse perspectives. Show up with intention and hunger for growth. You will be surprised by what you discover.

The record of activities created in the Flight Academy platform will serve you as you update your resume or enhance your LinkedIn profile. Your personal inventory page can also be shared with prospective employers so they can see the history of these co-curricular experiences.
BUSA Course Requirements
100% completion of a BUSA badge in the Flight Academy warrants a "satisfactory" grade which is passing in a 0-credit hour course. These requirements are detailed in the syllabus on D2L. Searching for the activities needed for your specific badge (e.g. "BUSA 2150- Summer 2021") is most effective through the Achievements or Dashboard tabs on the Flight Academy. Using the Activities tab proves to be confusing for some as it lists activities for all badges on the platform.
100 Club
Be one of the first 100 students to receive 100 points in any of the newly launched points-based gamification (milestone) badges. The point-based badges are fun and engaging badges based on the National Association of Colleges and Employers (NACE) competencies set to provide the intangible skills employers are seeking. Take advantage of these opportunities for all business students to accrue points to be eligible for competitions, prizes, and incentives. The Milestone badges can be found within the Flight Academy (Suitable desktop/mobile app).